Infrastructure Asset Management
Three Elements to Developing your of Asset Management Program
Develop the Strategic Framework - Charting the organizational and process flow
Implement the Asset Management Program - Pulling together processes, systems, data, and analysis
Sustain and Manage the Asset Management Program - Ongoing administration and operations


Asset Management Illustrations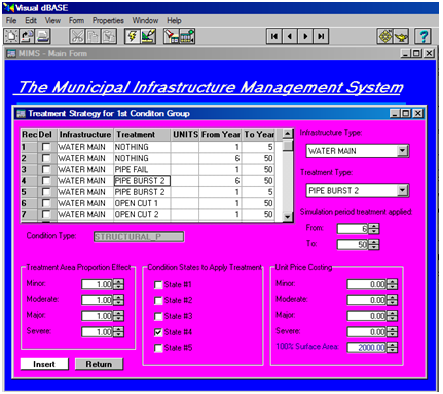 Life-Cycle Optimization Analysis
Not all asset management technologies are created equal. Our modeling technology was tested, proven and published through credible research and scientific agencies including the National Research Council (Ottawa) and the Journal of Decision Systems (Oxford & Paris).
Unique components of our modeling technology includes:
- Generic to any infrastructure type
- Detailed life-cycle analysis open to any maintenance and capital treatments
- Ability to consider risk of consequence and variability in level of service as required between infrastructure classes (eg. arterial vs local roadways)
- Monetary performance measure, which provides a dollar to dollar comparison between input expenditures to output asset valuation
Our performance prediction modeling addresses issues before they become problems.
Capital Renewal Programming
The output of our life-cycle optimization analysis is used to develop maintenance and capital budget programs.
Our practice typically develops short-range (5-year) detailed budget works programs for each infrastructure group (i.e. roads, sidewalks, water distribution, wastewater collection, treatment facilities, etc).
In the long-range (i.e. 20-year), we extend our infrastructure analysis to provide an extended forecast of the program strategy and determine if infrastructure sustainability targets are being met.
As example, in a recent Strategic Roadway Improvement Strategy (SRIS) project, given a $24.9 Million/yr budget, we delivered a short-range (5-year) program with a savings of $1.0 Million/yr resulting in roadway improvements valued at $3.3 Million/yr. This is equated to a net benefit of $4.3 Million/year (i.e. 17% ROII)
In the long-range (20-year), by drawing closer to the sustainability level, we were able to reduce spending by $4.9 Million/yr and continue to improve the roadway performance by $1.4 Million/yr for a net benefit of $6.3 Million/yr (25% ROII).
Through our state-of-the art infrastructure optimization analysis brought into budget planning, we are proven to be able to "maximize the value to taxpayers while ensuring infrastructure sustainability over time".